for Oranges Are Not the Only Fruit by Jeanette Winterson
The book is very rich in symbols. We can only guess what the oranges most likely are associated with, they surely have a hidden message. 
I decided upon 2 interesting symbols which I wanted to combine. Church and feminism. I wanted to create an optical illusion that makes the viewer's eyes fooled and has two interpretations. It's up to the person how he/she interprets it as it carries dual meanings. I later added another symbol, the birds that referring to Jeanett, how badly she wanted to break free from the religious society. from the small city. The second most important element , the image in the back, is a smaller version of the front design from a different perspective. With the text they create the shape of the feminism sign. By turning the book the mood changes to more serious and it gets dramatic. The dark scenery suggest sadness with the sun going down. The orange sun rays are highlighting the church windows in the background. Hopefully by looking at my finished piece it will allow the reader into the insight of Jeanette's perspective, and deliver the message: don't judge a book by it's cover, everyone has different opinions and representations of thing which is entirely up to the person. When brainstorming I was looking for shapes and symbols which are rather similar and can be associated then tried to link them together in this case the church with the woman body. To represent the difference between characters I used contradictions put design elements in high contrast, literally all the elements have dual meaning. The contradictions emphasising the two different perspectives known from the book. The good, guided by rules against the rebellious bad.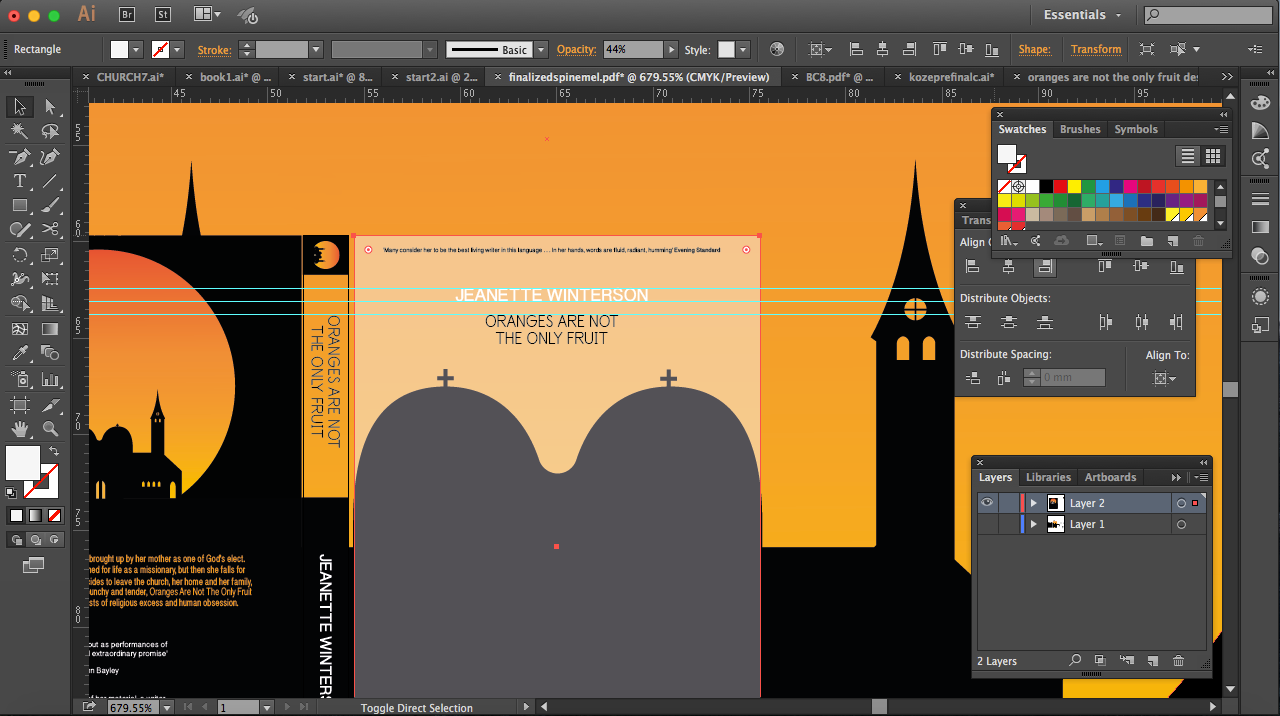 When I set the tone of my design creating the
moodboard
I was determined to use orange and blue complimentary colours with the possibility of adding black that conveys a sense of sadness. I wanted to use colours that express the emotional truth. It is a powerful way to convey emotion in design. Orange refers back to the core symbol of the story, blue also has hidden meaning, it's a cold colour that can be depressing, and can represent an uncaring spirit, from a religious point of view it is associated with Virgin Mary.